Page Vault On

Demand
Tell us what you need captured. We'll do the rest.
How does Page Vault On
Demand

work?
Submit a request

Online form, email, or phone call—just tell us what you'd like to capture.

Receive a free quote

Our team will review your request, then send you a quote. We can accommodate rush jobs—just let us know!

We deliver the capture

Once the quote is approved, Page Vault will make the captures and send them to you.
Request a free quote
We capture it all: Facebook, videos, websites, documents, and more
Small or large, simple or complicated—anything you can see in a browser, we can capture it.
Social Media

Facebook

Instagram

Twitter

LinkedIn

TikTok

...and many more

Profiles start at $299 Quotes are always free

Websites

Web pages

Full websites

Wayback Machine

Marketplaces (Amazon, Airbnb, etc.)

Websites start at $149 Quotes are always free

Videos

YouTube

Vimeo

Facebook &
Instagram videos

Proprietary Players

Projects start at $199 Quotes are always free

Documents

Downloadable files
(Excel, Word, PDFs, etc.)

Online images

Audio & video files

Other media file types

Projects start at $149 Quotes are always free
How does Page Vault On
Demand

pricing work?

On Demand pricing is determined by content type and size of the project.

Trusted by the top law firms to get captures done quickly and correctly.
A team of capture experts

Our capture experts, tech team, and customer support get what you need and are here to help.

Rush job? No problem.

Cases can move quickly—and so can we. We'll work with you to get it done on time.

Not sure what you need? We can help.

From consulting on what to capture to investigations and site scoping, we can help you figure out what you need and get the job done.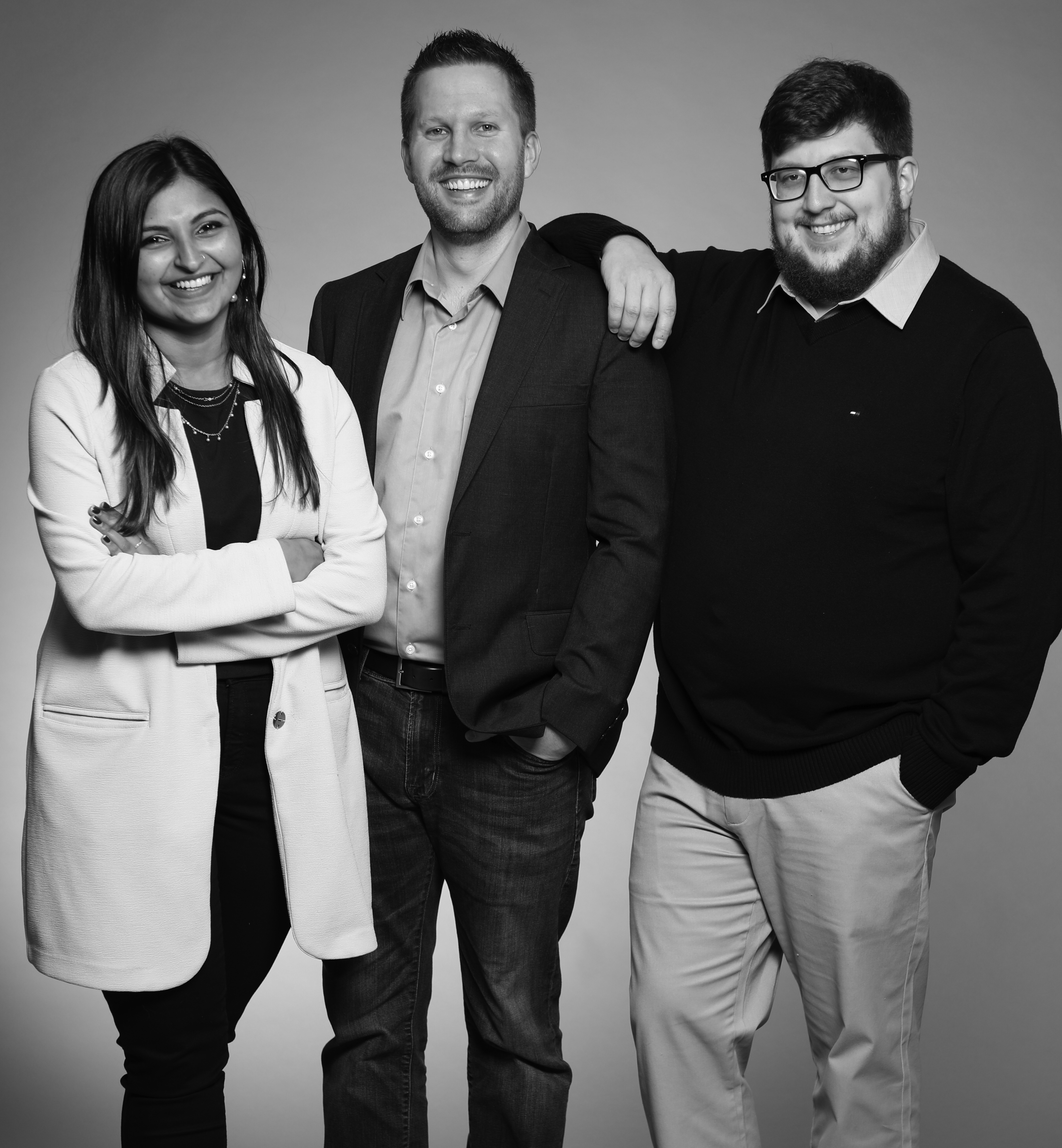 Services designed for the legal industry
Accurate outputs and key metadata

No missing content or changed formatting. Every capture includes timestamp and URL metadata.

Affidavits and expert witness services

Affidavits and expert witness services are available for all On Demand jobs.

Monitoring and recurring captures

Need to monitor changes over time? We can make captures on a schedule.

We make billing easy

Emailed invoices that can include your Matter ID for pass-through billing.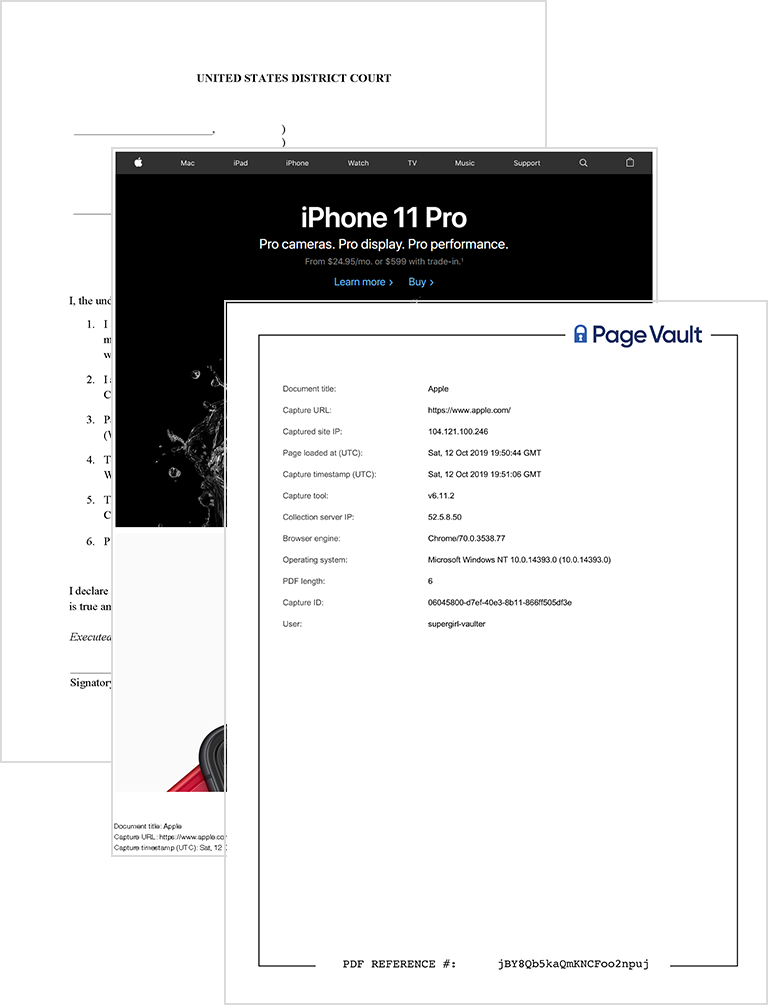 Your toughest, largest, most complicated jobs—we can do it.
Facebook, social media and websites of any size

Whether its thousands of posts or thousands of pages—we can get it.

Wayback Machine archives

Page disappeared or changed? We can capture archives preserved in the Wayback Machine.

Manual interactions with pages

CAPTCHA boxes, "see more", hidden content—sometimes human interaction is necessary. Our team can help.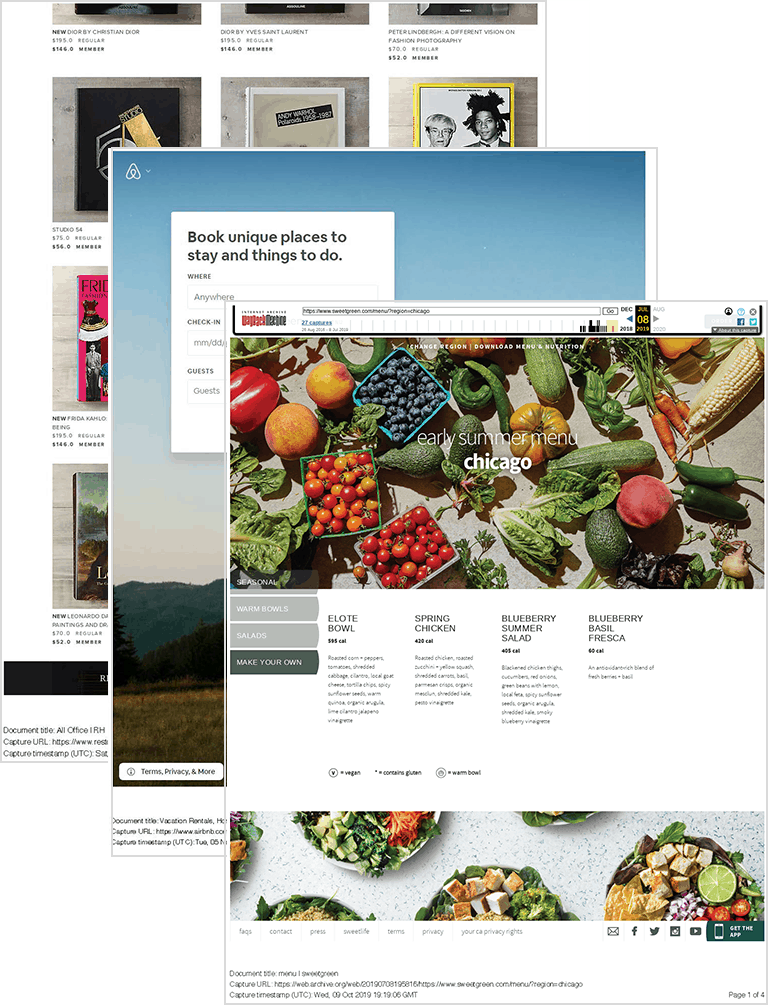 Page Vault On
Demand

Sample Projects

Please note that these are simply examples to illustrate common On Demand job scope. Each project is unique and our quote depends on examining the specific content and website to be captured. Your project may differ from the examples below.
Example:

Multiple social media profiles

Collects social media profiles from an individual: Facebook, Instagram, Twitter, LinkedIn, etc.

Example:

A full website (100s to 1,000s of pages)

Finds all pages on a website and captures the ones you want.

Example:

Online video downloads (YouTube, Facebook, Vimeo, etc.)

Collects the video files, a static capture of the source web pages, and associated metadata.
Find out more